For as long as I've know her,
Meghan
at The Perfect Compilation Tape has created a little brightness at her space on Thursdays with her
Top 5 Thursdays
. This Thursdays topic of
Top 5 Dream Vacations
was too tempting to pass up, so I'm linking up to her.
I think the dream vacation that we are going to at the end of July (eek!) is about as dreamy as can be since we will be staying in
Brussels, Paris, and London
during our 10-day journey. Regrettably, we did have to cut some locations that were just too far away for us. We couldn't justify spending our precious hours on a train or plane for that long.
So if we had more time (and more money for that matter) here are the
Top 5 European Vacation Stops We Would Add to Our Dream Vacation
: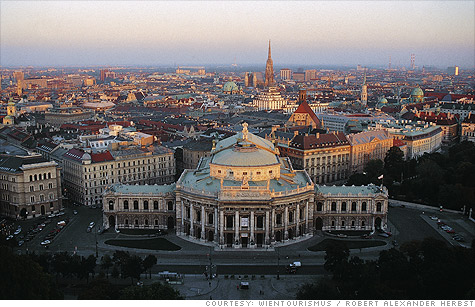 You see?! There is no way we can get to all the places on our must-see list. We are so blessed with the chance to go on such an incredible honeymoon (as Chad likes to call it).
Link up
with Meghan if you wish and share in all the wanderlust...
Sidenote: Before I close on this fun topic that Meghan dreamed up, I wanted to send out prayers to all those in the South who have had to go through this devastating series of tornadoes. (
Click here for the full story from CNN
.) I have never had to go through a weather-related experience like this, so I can only sympathize will all those who are without power, food, and a home today. Makes me all the more thankful to God that I do have these things today.